[It Works!] How to play DVD on HP Laptops on Windows OS
Summary: When talking about how to play DVD on HP laptop, we need to consider Windows versions like XP, Vista, Win 7/8/10. When your HP laptop won't play DBD, you have to check its OS version and the laptop DVD drive. This post details how to play DVD on HP laptop computers with the best HP DVD player. Read on for details.
DVDFab Player 6 Free
• Offer two display modes: PC Mode and TV Mode
• Provide menu support for DVD and Blu-ray discs, folders and ISO files
• Play 4K UHD, HEVC videos and 3D media contents with HDR 10 and HD audio output support
Why won't my DVD play on HP laptop? How do I play DVD on HP laptop with Windows 10? How do I play a DVD on an HP laptop? If you have purchased an HP laptop in recent days and are holding the above questions like how do I play a DVD on my HP laptop, then it will benefit you a lot to read this article. In the first place, playing a DVD on an HP laptop is not a difficult thing at all. Because many HP laptops are designed with DVD-ROM drive. Yet the problem is that not all Windows systems are able to read DVDs even though your computer has the DVD-ROM drive. To be more specific, only Windows XP/Vista and Windows 7 are designed to recognize and play DVD video content automatically while Windows 10 and Windows 8, unfortunately, are not developed with this capability. If you have HP laptops without DVD drives, you have to look for a DVD player for HP laptop so that you can watch DVD content successfully.
If you are sure that your HP laptop has the DVD-ROM drive and also with Windows XP/Vista/7 system, how to open CD/DVD drive on HP laptop? Read the few steps below to figure out how to play DVD on HP laptop DVD drive.
First, click the Start button of your laptop, and select Computer from the menu to open Windows Explorer.
Second, right-click the DVD drive in the left pane. If your HP laptop has a DVD drive, it is listed in the computer section.
Third, select Eject from the context menu to open the DVD drive on the HP laptop.
Finally, place the DVD or CD on the DVD drive tray and push the tray back into the laptop to insert the CD or DVD.
It is so much easy to play your DVD on HP laptop with Windows XP/Vista/7 system. Now, let's see how to play DVD on HP laptop on Windows 10. The question "how do I play a DVD on my HP laptop windows 10" has been frequently asked by users. And you must have come across the problem that your DVD won't play on Windows 10/8 when you insert your disc into the disc drive. That's because this Windows version doesn't include built-in support for playing DVDs. So here we go.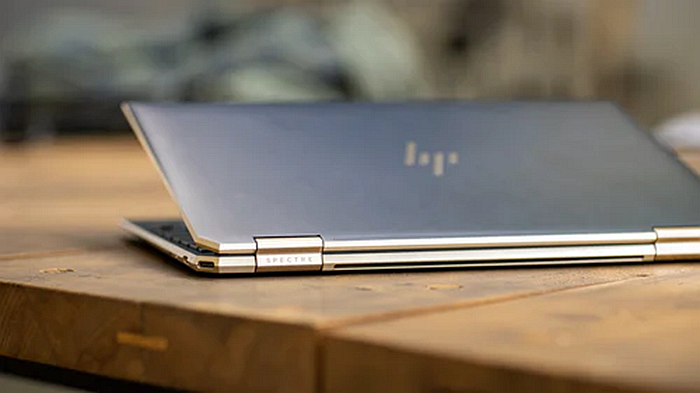 When talking about DVD not playing on laptop, it probably means HP laptop DVD drive is not available. Congratulations! You have got the latest Windows versions. If you have a HP DVD player Windows 10/8, things will be solved easily. Now, let's see how to play DVD on HP laptop with Windows 10/8 when there is already DVD-ROM with your computer.
Install a third-party media player is the most direct method to deal with the issue of playing DVD on HP laptop. And the DVDFab DVD Player 6 Ultra, the best versatile 4K media player, is the perfect HP DVD player for you. It is apt for people who are pursuing the most wonderful viewing experience. DVDFab DVD Player 6 Ultra is designed as a full-feature media player to help you play your audios, videos, DVDs, Blu-ray, and even UHD. For your reference, below are some remarkable features of it.
Organize & manage local media library by poster wall
The navigation menu on DVDs, Blu-rays and 4K Ultra HD Blu-rays
Build, organize and manage smart local music library
Hi-Res audio output support, up to Dolby Atoms & DTS:X
All-inclusive support on 4K UHD, HEVC, and other media files
All-round 3D playback on all forms of 3D contents
Import DVD & Blu-ray discs to local media library as ISO files
PC and TV playback modes optimized for small or huge screens
Fast and precise review with adjustable thumbnails
Available on Windows & macOS, free trial
i Free Download i Free Download
How to play a DVD on HP laptop with this DVDFab Player 6 Ultra?
Step 1: Free download this best 4K DVD player on your HP laptop
Hit on the clicking button to start downloading and installing. Just a reminder, no plug-ins or spyware will come along with this HP DVD player.
When you launch this media player, two modes will be presented in front of you. Pick up the one you prefer. Here let's take the PC mode as an example.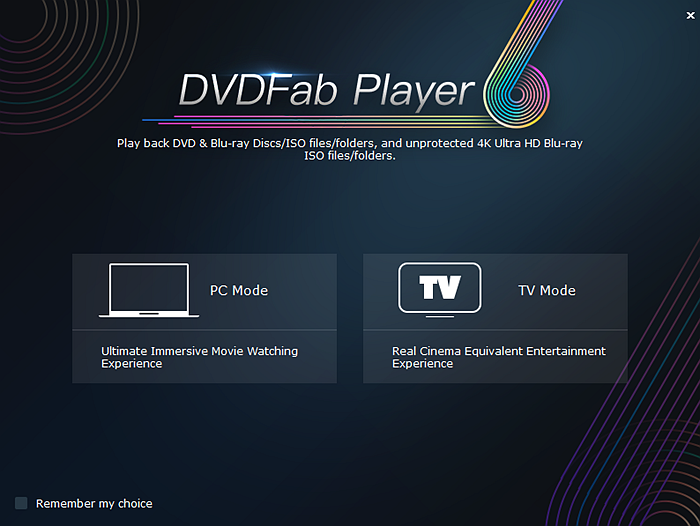 Step 2: Load your DVD source into the HP DVD player
Insert DVD source to the DVD drive. If your computer has an optical drive, then this DVD player will automatically recognize it. As a result, you can play the contents of DVD-ROM already on your computer. If your HP laptop DVD drive does not work or is not available, please load DVD ISO file or folder.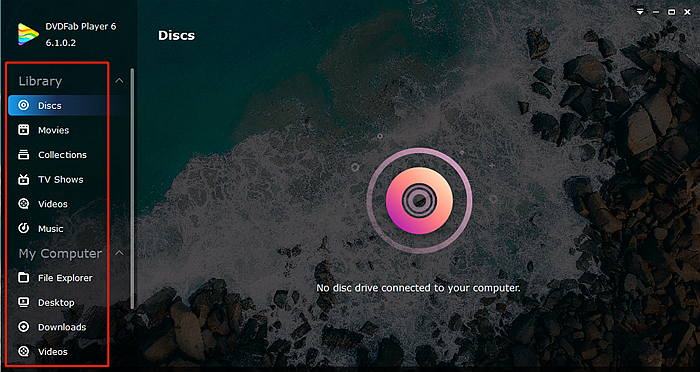 Step 3: Set up your video and enjoy it
Right-click on the media player interface you can set up your video while it is playing. For example, you can deinterlace the video, rotate it or adjust its color etc., if you put your mouse cursor on the video tab.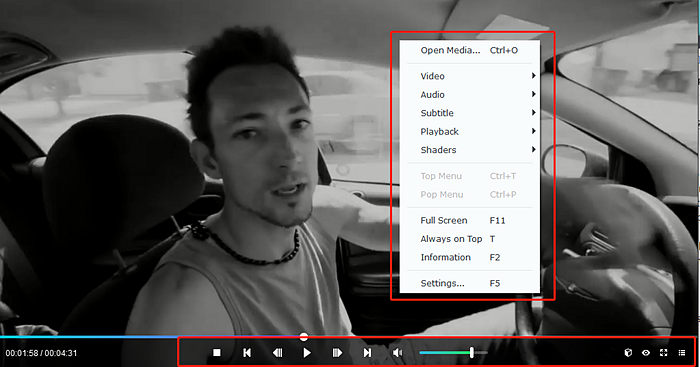 If you are looking for a situation where you can play your DVD not only on HP laptop but also on other portable devices. Then, digitalizing your DVD content will be a great choice. Let's turn to the DVDFab DVD Ripper to help you deal with this issue.
Features of this DVD ripper program:
Full trail, free and paid versions available
Rip any DVD to numerous video/audio formats
Output the video the way you like
Offers many effects, such as cropping, trimming, etc
Quick and convenient to use
Upscale video quality with Enlarger AI
How to play a DVD on HP laptop with the DVDFab DVD Ripper?
Step 1: Free Download and launch the DVD Ripper software
Get this DVD ripping program via the below-downloading button. The whole downloading process can be finished in a very short moment. It is integrated into DVDFab 12 for the sake of better user experience.
i Free Download i Free Download
Step 2: Upload your DVD source
Insert your DVD disc onto your DVD drive, then this program will automatically recognize its content. Besides, you can edit it, such as cropping, trimming, adding text, etc., to output the video the way you like.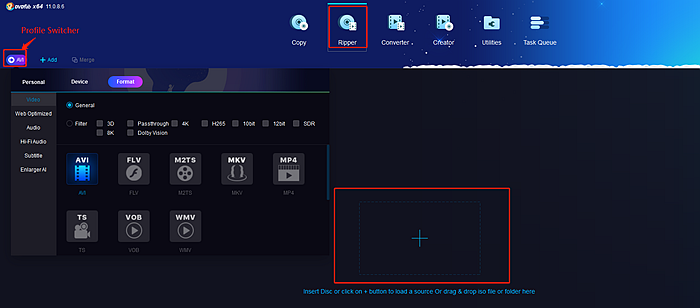 If you click on the Advanced Settings button, you are able to select the video resolution, bit rate, or frame rate, ect.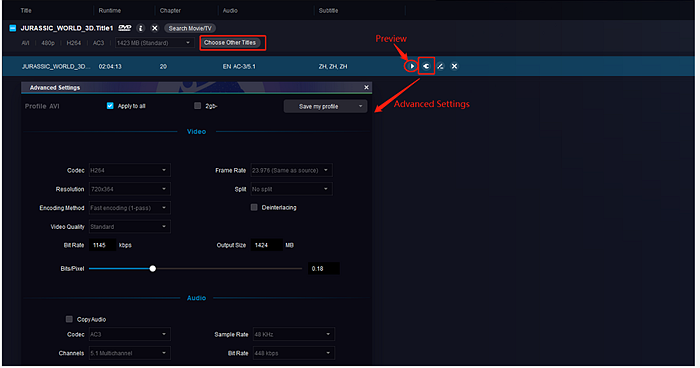 If you click on the Video Edit button represented by a pencil icon, then you can decide how to trim your video, crop it, or whether to add text or subtitles on your video.

Step 3: Start the digitalizing process
Click that Start button to output the video. A few minutes later, you can play DVD content on the HP laptop.
WARM TIPS: You can convert DVD to MP4 videos or other video fromat so that you watch the converted DVD content on portable or mobile devices whenver possible. Besides, if you activate the Enlarger AI icon, it will enable you to upscale video from 480p to 1080p with AI tech automatically. In this way, you can watch quality videos on your home player.
Both methods work well if you wonder how to play DVDs on HP laptop. Just choose one method and play in the way you like. Besides the HP laptop issue, you must have also encountered the problem that your DVD cannot be played on your Xbox One. If you are still troubled by figuring out how to play DVDs on Xbox One, then maybe you can click here to find answers.