SlySoft's Unexpected Shutdown
To the Blu-ray backup software makers and those who own stacks of Blu-ray discs at home, the past two weeks can be tough. As of Feb. 24, SlySoft, known to many as the red fox, was forced by the new protection-LA, the licensing body of the copy-protection system applied on the commercial Blu-ray discs, to cease operations, and when landing on its website, all could be seen was a short message that reads: "Due to recent regulatory requirements we have had to cease all activities relating to SlySoft Inc. We wish to thank our loyal customers/clients for their patronage over the years."
Is It a Total Game Over to the Business?
SlySoft's sudden shutdown causes immediate concerns and speculations among its customers! Many are worrying that if AnyDVD HD fails to make a comeback, does it mean this business is totally game over? Absolutely not! Actually, equally as legendary as the red fox might be, DVDFab Passkey used to go through exactly the same course two years ago. The only difference is that Passkey finally survives, not because of its lucky birth place, but its first-class features, commitment and dedication to the customers over years. Even the former AnyDVD HD followers looking for an alternative way out, after giving Passkey a tryout, are quite impressed by what Passkey is capable of, see the screenshots below.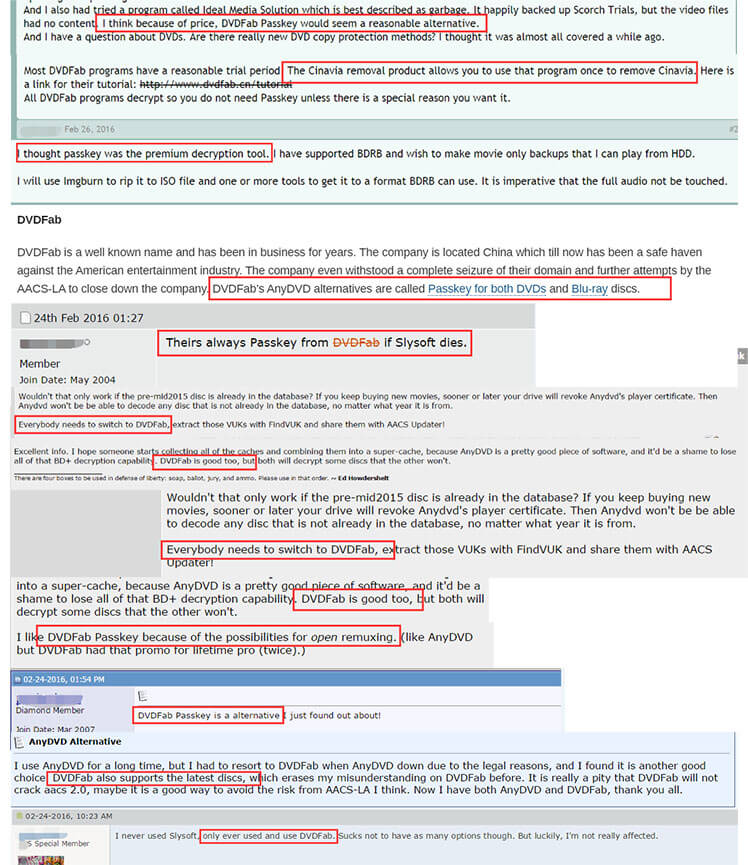 There have long been rumors that Passkey takes the advantage of AnyDVD HD to do its work. The above comments should prove those rumors indefensible assumptions. The truth is that DVDFab has a lot of first-class technologies of its own, like the StealthyClone, Lightning Shrink, Cinavia Removal, Lightning-Recoding , .miniso, Intel Quick Sync, NVIDIA CUDA & AMD APP, BD Shrink, BDInfo, Meta Info, and so on and so on… Passkey, absorbing several of those technologies, is actually one of the best sellers of all time from DVDFab. Thus, if there is such an option on the table, why not take it? The chance is that Passkey is being offered at 30% off on the 1-year subscription for the time being. If you are a former AnyDVD HD user, there is an extra surprise! Do grab this exceptional opportunity, as the sales price of Passkey is going to rise shortly in April.
Passkey for DVD & Blu-ray 1-Year Special Offer

World-class decrypter to defend your Fair Use right, unprotect your legally owned DVDs and Blu-rays on the fly in seconds, or copy them to computer HDDs as ISO files or movie folders.

Advantages of Passkey:

Built-in PathPlayer analyzing tool which automatically finds the correct playlist from the fake playlists on the Structural Protected discs.
Automatically find the correct region code of a disc to make sure the backup works flawlessly.
Allow users to limitlessly change the region code and even the internal counter of popular Blu-ray player software.
Create image files (aka ISO files) of DVD and Blu-ray discs that can be mounted with the free DVDFab Virtual Drive.
Small in size, fast in speed, and uses hardware acceleration during the decryption process.

Was $69Now $48.3

I'm previously with AnyDVD
Probe into new protection-LA's Plan behind the Incident
What the new protection-LA, along with its entire consortium, is trying to do is quite obvious. They want movie consumers to re-purchase their discs whenever the originals get scratched over time, damaged, or lost, so that they can make more profit. To that end, they will rack their brains to crack down AnyDVD HD and the likes without a single mercy, and in the meantime, to defend themselves, they do find a self-righteous excuse to carry out their disgraceful plans in the name of fighting against piracy and copyright infringement.
Well, speaking of honoring the copyright act, let's do not forget, which new protection-LA intentionally neglects, the Fair Use Act. The Fair Use Act grants people the right to make backup copies of copyrighted materials (in this case, the legally purchased commercial DVD and Blu-ray discs) without obtaining the advance permission from the issuing party, as long as the backup copies are for non-profit home use purposes, which in this case may include, hard copies made to prevent the originals from being scratched or damaged, rips or conversions made for enjoying on personal computers and mobile devices, and other things alike.
What new protection-LA and its behind-scene supporters should learn over time is, simply by cracking down a software maker does not and will not in the future change the fact that is nothing wrong in the first place. On the contrary, things might just go to the opposite, it may finally put itself in an awkward situation which may stop consumers from buying more DVDs and Blu-rays in the future, or even push them to torrent site just to boycott, because there is a good reason for that, like one of the AnyDVD HD users commented, "If they (new protection-LA) don't allow me to protect my investment (in this case, the legally purchased DVDs and Blu-rays), why should I care about theirs?" If this is the case, what's meaning of new protection-LA being so aggressive? Shutting down the software makers only to hurt the disc sales and promote piracy to some extent, officially? This is absolutely not that they should have in mind!