MakeMKV and Its Alternative [Top 16 MakeMKV Alternatives]
Summary: Is there any problem to rip DVD/Blu ray with MakeMKV? If there is, why ask MakeMKV alternative for help. There is the best MakemKV alternative - DVDFab DVD Ripper waiting for you. Also you can find other DVD ripping software or Bluray ripping software in this article as MakeMKV alternatives. Choose your favorite DVD/Bluray ripper and start to convert DVD to digital formats based on your needs.
Free HD Decrypter
• Copy DVD and Blu-ray files with two backup modes: Full Disc and Main Movie
• Convert Videos/DVDs/Blu-rays to MKV or MP4 format
• Work at top speed and export files without quality loss
Using MakeMKV or MakeMKV alternative to convert DVD/Bluray to digital formats is the best way to protect DVD and Bluray discs. Who doesn't want to back up DVDs or Blurays and watch them on phone or other portable devices anywhere and anytime? But do you know the difference between MakeMKV and its alternative. If MakeMKV is the best, why are people looking for MakeMKV althernatives? So let's find the reasoin in this article.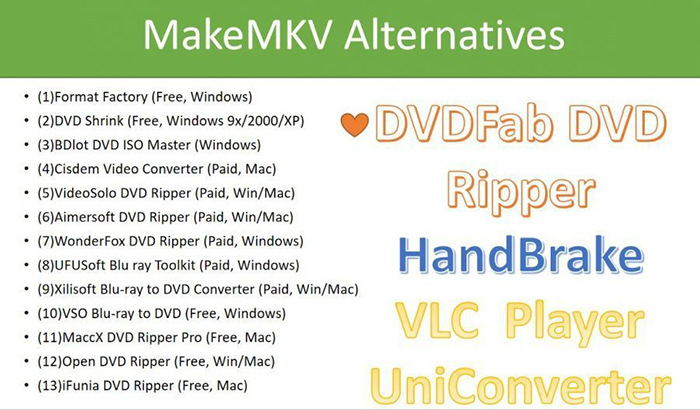 1. Rip DVD/Blu ray with MakeMKV
As is known ot us, MakeMKV is not only a DVD ripping software and it also handles Blu ray as well. But when it is used to burn DVD or Blu ray, only MKV format is supported. So you can only rip DVD to MKV. The same goes for Blu ray file. But do you know MKV files are not playable on all media players? You have to find a special MKV player to play MKV after you choose MakeMKV as your DVD ripping software or Blu ray ripping software. That's why people wants an MakeMKV alternative.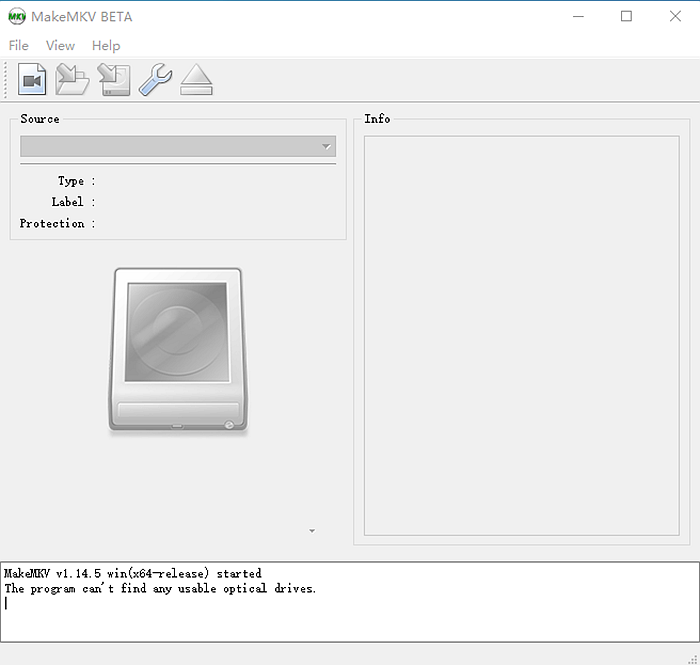 2. MakeMKV alternative - HandBrake
Considering MakeMKV only outputs MKV formats. HandBrake, MakeMKV alternative, compensates its weakness by ripping DVD to MKV and MP4 formats. MP4 format has stronger compatibility than MKV format which you can find through MKV vs MP4. So converting DVD or Blu ray using this MakeMKV alternative is a good choice.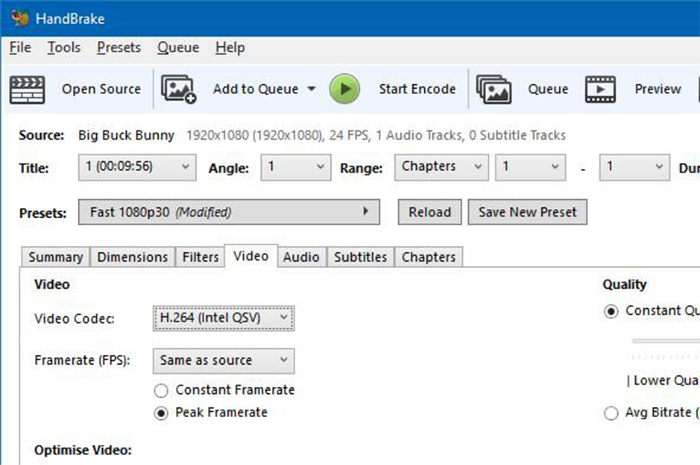 3. MakeMKV Alternative - DVDFab DVD Ripper
If you expect to rip DVD to more output fomats, including but mot limited to MKV and MP4, let DVDFab DVD Ripper do you a favor. Now follow me to make a friend with this free DVD ripping software, alternative to MakeMKV.
Superior to HandBrake and MakeMKV, DVDFab DVD Ripper supports many video formats such as MKV, MP4, AVI, FLV, WMV, VOB, TS, etc. And tHis MakeMKV alternative also allows you to edit your video first before output them. For example, you can control the start and end chapters within the source, audio tracks, subtitles and set video prosperities, such as its brightness.
How DVDFab DVD Ripper Works?
Here is a step by step tutorial on how to rip DVD with DVDFab DVD Ripper, an MakeMKV alternative.
(1) To use this software, you may need to install it on your computer first. This application is compatible with both Mac and Windows. Download a version as needed.
(2) Launch this MakeMKV alternative, click on the Ripper tab and load your source. DVDFab supports DVD discs, DVD ISO files, and DVD folders. So you can insert a disc and this software will detect this disc itself or you can click "+" button to load a source or drag & drop ISO file or folder to it. Once the source is uploaded, you are free to do the next step.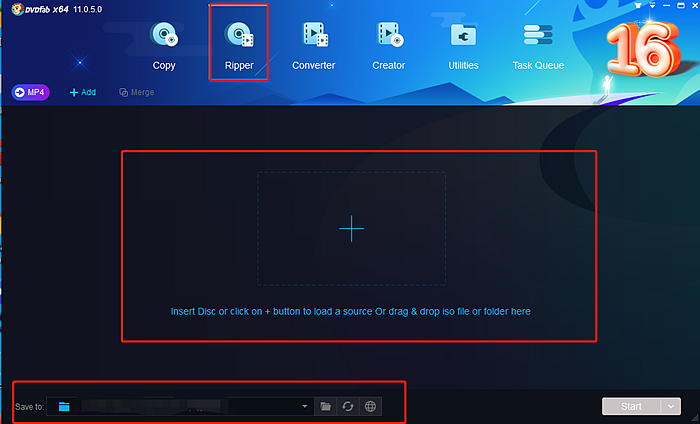 (3) Now you may need to choose the options available to you as per your desires from Profile Menu in this MakeMKV alternative. You can choose the device and format you want to output by going to the profile library at the top left corner. There are many devices available, such as iPad Pro, iPhone, Apple TV, etc. Speaking of the output formats, this alternative to MakeMKV offers various output formats, like AVI, FLV, MKV and more.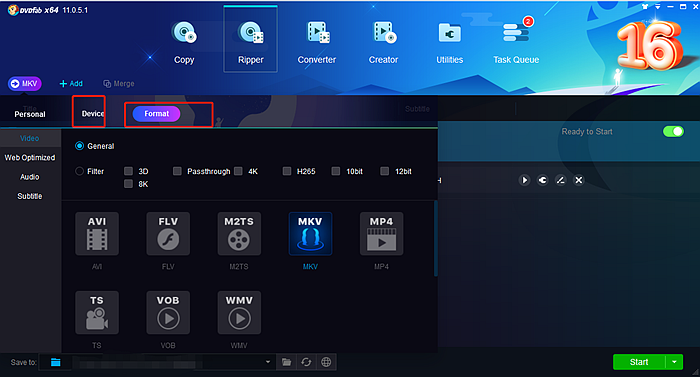 (4) Customize the video
As soon as the DVD source is uploaded, this MakeMKV alternative will detect it automatically and the main movie title will be selected by default. You can click the "Choose Other Titles" to choose your wanted one. Furthermore, you can use "Advanced Settings" and "Video Edit" buttons to set the output video resolution and edit audio and subtitles. At the bottom of this MakeMKV alternative, you are provided with three output paths: Mobile Device, Folder and YouTube/Vimeo/Facebook.
Then the "Video Edit" button in this MakeMKV alternative is more powerful. You can use it to change video properties such as its brightness; you can add text or subtitles on this video as well as for trim and crop video.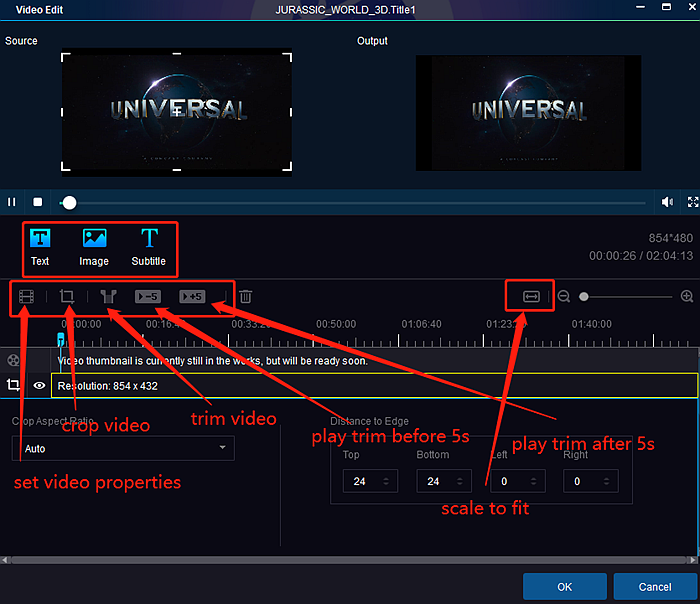 (5) While your settings are done, you can click the button of "Start" and wait until the process is completed. The conversion is fast since this alternative to MakeMKV offers 10 times faster speed.
4. MakeMKV Alternative - DVDFab Blu-ray Ripper
This MakeMKV alternative is a fully-featured tool with professional techniques. It can read any kind of Blu-ray Discs, ISO files, and folders and convert them as well as rip them. Under the help of DVDFab Blu-ray Cinavia Removal, this software can permanently remove the Cinavia watermarks from Cinavia infected Blu-rays.
(1) Supports multiple languages
There are lots of features of DVDFab Blu-ray Ripper that come in really handy in your usage. The software supports multiple languages so that you can work with your favorited language including English, French, etc.
(2) Friendly user interface
As soon as you launch the application, you will see an interface in blue with the entire menu bar at the top. The interface looks stunning and beautiful.
(3) Easy to use software
You can learn how to use this MakeMKV alternative easily even if you don't have much technical knowledge, even you haven't done the conversion before.
(4) Fast and professional tool
The video rendering is quite fast compared to other software. DVDFab DVD Ripper offers you batch processing, multi-threading, and multi-core, which makes the process less time-consuming.
(5) Good quality video output
No one wants to compromise with the quality of the video. DVDFab DVD Ripper is capable of maintaining the video quality after conversion or ripping of the video file. So in this way, you can still enjoy high-quality videos using this MakeMKV alternative.
(6) Various formats
The output formats supported by this software are MP4, AVI, MKV, M2TS, and other popular formats.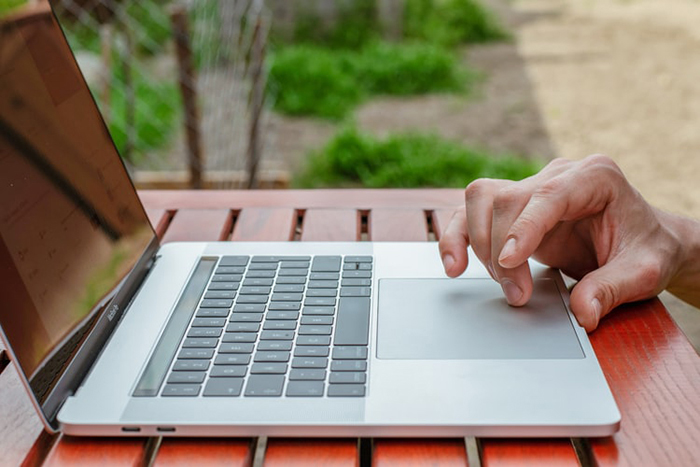 How does DVDFab Blu-ray Ripper work?
This MakeMKV alternative is as simple as DVDFab DVD Ripper to use. To use the Blu-ray ripper, you can use the same steps as you used with the DVD ripper. All work would be done. Here are brief steps for you.
(1) Download and install this alternative to MakeMKV on your device as instructed.
(2) Launch this software and select the "Ripper" tab.
(3) Upload your source by inserting a disc or by clicking "+" or directly dragging and dropping ISO file/ folder.
(4) Then select a module from Profile as well as an output location.
(5)Then the last step is to start the progress.
5. MakeMKV Alternative - DVDFab UHD Ripper
when you want to rip 4K UHD to MKV, MP4 or other popular video formats, chooes this alternative to MakeMKV. DVDFab UHD Ripper can convert 4K UHD into MKV/M2TS/MP4 formats, with lossless or 4K HEVC 10-bit or SDR video quality. If you have known how to rip DVD or Blu-ray, then you will know how to rip 4K/UHD with DVDFab UHD Ripper because they share so many commons. If you are still confused about how to rip UHD Blu-rays with DVDFab UHD Ripper, you are free to click the link here.
6. MakeMKV Alterantive - VLC Player
Another MakeMKV alterntive is VLC Player. It supports multiple video and audio formats, like MKV, MP4, MPEG, WMV, FLAC, OGG and MP3. How to use this alterntive of MakeMKV to rip DVD to MKV or other formats. launch it nd click the button of "Media" > select "Convert/Save". Insert your disc and choose the title you are going to rip with this MakeMKV alternative. Then go to "Setting" - "Convert" to choose your wanted output format and start to rip DVD to your chosen output folder.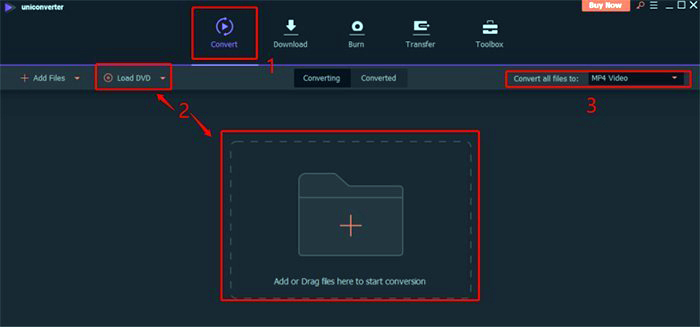 7. MakeMKV Alternative - UniConverter
The seventh alternative to MakeMKV is UniConverter. How to rip DVDs with this software. Get it launched first in your Windows or Mac. Then select the module of Converter and load your file. There is a video editor in this MakeMKV alternative, so you can customize your video based on your preference. Then choose the output format and decide where to save your file. At last, rip DVD to MKV/MP4 or others using this MakeMKV alternative.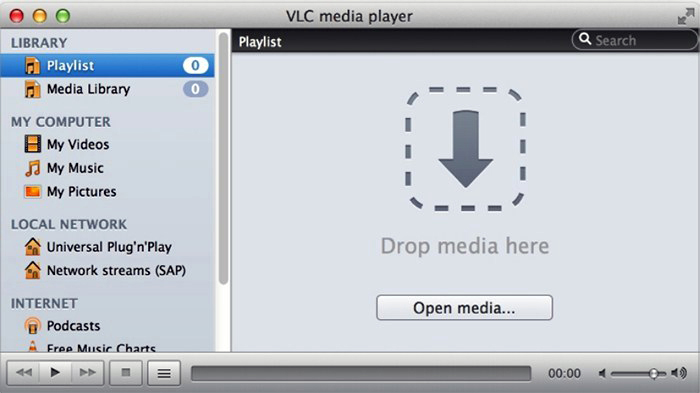 8. MakeMKV Alternative - WonderFox DVD Ripper Pro
WonderFox DVD Ripper Pro is another alternative to MakeMKV. It is only compatible with Windows OS, and there is no multilingual user interface. You can input DVD Disc, ISO Image and DVD Folder to this MakeMKV alternative. If you want to rip DVDs to multiple formats do it in a paid version.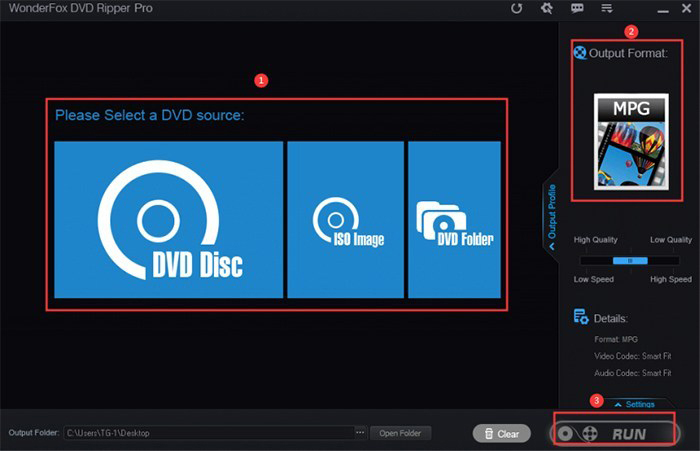 9. More MakeMKV Alternatives in Brief
Besides such MakeMKV alternatives, you still have other choices. I 've listed them below. Based on your preference, you choose any of them to rip DVD to MP4, MKV and the format you want.
(1) Auora
(2) Open DVD Ripper
(3) DVD Cutter
(4) CladDVD.NET,
(5) A-ray Scanner
(6) DVD-Cloner
(7) Nero Recode
(8) AnyDVD
(9) ConvertXtoDVD
10. FAQs
Q1: How do download MakeMKV?
As one of the best DVD ripping software, MakeMKV is a one-click solution to convert and rip DVD and Bluray. To save money many people go for MakeMKV beta download. As a format converter or "transcoder", MakeMKV only offers one output format, lossless MKV, which can be told from its name. It rips and converts Blu-ray/DVD to lossless MKV that contains all the original data from the discs with no compression. If you deisre more output formats, ask MakeMKV alternative for help.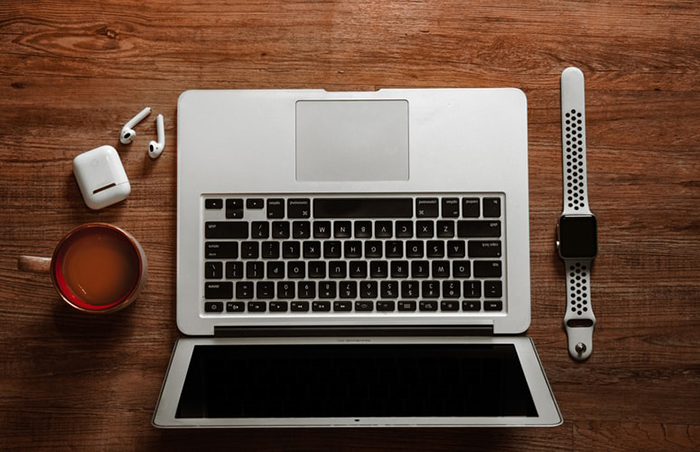 Q2: How to use MakeMKV on Linux?
MakeMKV works on Mac OS X and Windows. Users can also install MakeMKV Linux by following a detailed instruction post on the MakeMKV forums. To download MakeMKV, you can go to its official website. Few MakeMKV alternative can work on this system.
(3) Where to find MakeMKV beta key?
MakeMKV contains both freeware and shareware functionality. You may use this software to convert or rip DVD for free. Yet when it comes to "rip Blu-ray", you need to purchase a MakeMKV activation key after a 30-day trial period. When your trial period comes, you need to pay for $50 if you want to go on the using and you will receive a MakeMKV beta key. After that, you can use "Register" from "Help" in this software to enter it. If you only rip Blu-rays with MakeMKV occasionally and think it costs too much to buy this software, you can reinstall this software after 30 days to obtain a new trial period, as MakeMKV is a beta version. If you feel it hard to find MakeMKV beta key, choose MakeMKV alternative for help.
(4) Why Rip DVD to MKV?
Why rip DVD to MKV with MakeMKV? MKV is short for "Matroska". It's not an audio or video compression format as people always think like MKV vs. MP4. Instead, it's a video container, much like MOV and AVI, but also supports an unlimited number of audio, picture and subtitle tracks into a single file – even if those elements use different types of encoding. Apart from this, as MKV supports descriptions, ratings, convert art, and even chapter points, it is often seen as the carrier for high-definition online video. This is why MKV is chosen as the default video container format by MakeMKV and its alternatives.
Another thing you should bear in mind about MKV files tend to be very large in size, so your best bet for playing most MKV files is to use DVDFab Player 6 after ripping DVD to MKV with MakeMKV. It supports all the media formats, including MKV, MP4, MOV, VOB and more. In case you want to know more about how this software works to play MKV files, you are free to click the link here.
(5) How MakeMKV Works?
MakeMKV is easy to use. Only one click is enough to finish the conversion process.
If you have installed this software on your devices, you will see this window below when you open it.
MakeMKV will automatically detect DVD or Blu-ray and show it if they already exist in the DVD drive. When your DVD or Blu-ray information shows up, you can click on the large optical drive icon to initiate the program and let the software begins scanning the drive.
Once the scanning process is done, all chapters of DVD or Blu-ray will show up. This is when you can do some settings, like selecting subtitles you need, choosing chapter you want or other things.
When you have done your selections, you can move your eyesight to the right side and you will see the "Output" folder – this folder decides where your output files go. Of course, you are free to change its directory if needed. Then click "Make MKV" to start the conversion. When the MKV file is made, you can use DVDFab Player 6 to play it right away.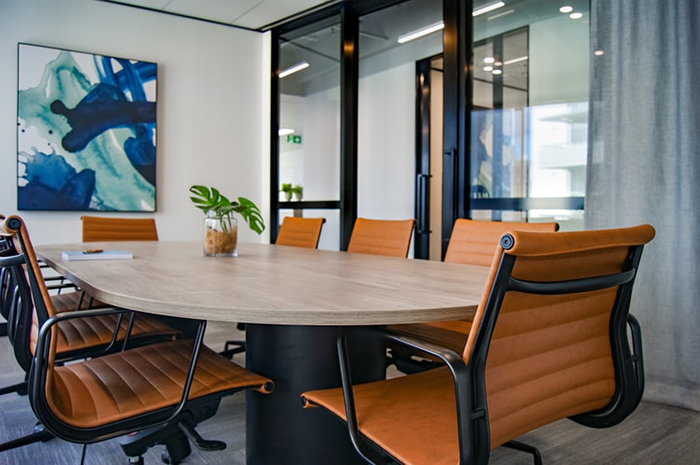 (6) How to rip 4K UHD with MakeMKV?
You can also use MakeMKV to rip 4K/UHD. Blu-ray took over the place of DVD and offers people with higher resolution and clear image. However, people have never stopped their pursuit for higher resolutions, as a result, 4K shows up. 4K Blu-ray has grown in popularity worldwide day by day. If you happen to have 4K Blu-ray discs and want to rip them with MakeMKV, just repeat the above steps.
Outstanding Features of MakeMKV
• This software is 100% free for DVD conversion.
• Able to read the protected Blu-rays and standard DVDs
• Compatible with Windows, Mac, and Linux platforms.
Drawbacks of MakeMKV
• The biggest one is that this software is only for MKV files.
• The software will no longer be completely free after the beta period is over.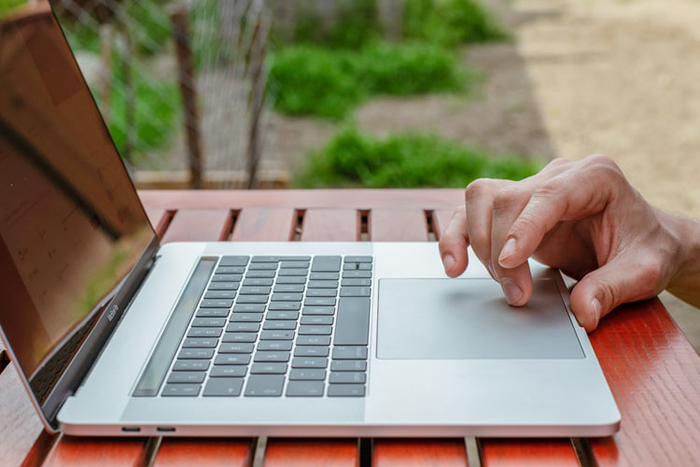 (7) MakeMKV vs HandBrake
HandBrake is a free and open-source transcoder for digital video files. Similar to MakeMKV, it is compatible with Linux, macOS, and Windows. Apart from this, HandBrake shares the same function to convert DVD to MKV file with MakeMKV. Yet other than that, HandBrake also supports users to rip DVD to MP4 format. Besides this aspect, they also differ in terms of time, space and speed. HandBrake takes a longer time to compress the video and the resulting file size is smaller than the source. You might need to take longer to complete the process. On the contrary, MakeMKV does nothing to the source stream but only rip them into MKV file – a different container.
To make it clear for you, we summarized the pros and cons of HandBrake, one MakeMKV alternative, and listed them below.
Pros of HandBrake
• Compatible with Windows, Mac, and Linux systems
• Convert into both MKV and MP4 formats.
• This software is totally free.
Cons of HandBrake
• It can be a challenge for a beginner to use.
• The conversion process takes a longer time.
• The Graphical User Interface is not so easy.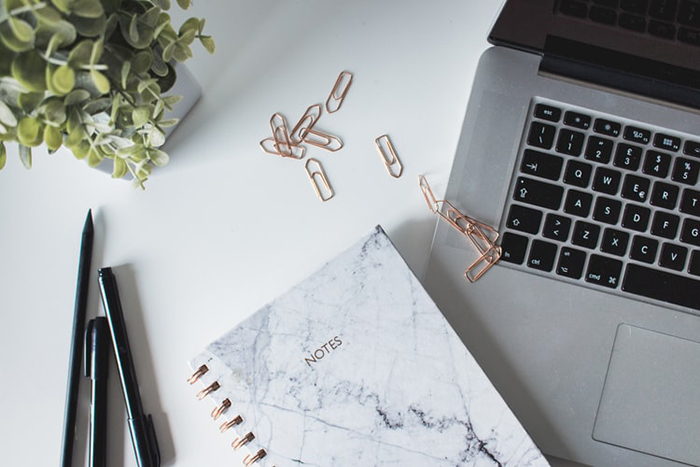 (8) MakeMKV vs AnyDVD
AnyDVD HD, another MakeMKV alternative, is also one of the most popular DVD ripping software on the market. It comes with the same functionality as AnyDVD, but with additional features for full Blu-ray discs and HD DVD supports, including decryption of Blu-ray and HD DVD movies. Unlike MakeMKV, AnyDVD HD is a Windows-based application that removes restrictions of DVD and Blu-ray media automatically in the background. As soon as a DVD or Blu-ray is inserted into the drive, AnyDVD will get access to the contents of them. In terms of prices, AnyDVD HD is more expensive than MakeMKV. Lifetime updates of AnyDVD cost $115 or else it's 1-year updates for $60.
For your better understanding, we summarized the pros and cons of AnyDVD HD and listed them below.
Pros of AnyDVD HD
• The intuitive interface makes AnyDVD HD easy to use.
• DVD to MP4 converting speed is high.
• Better output quality than others
Cons of AnyDVD HD
• You are not allowed to share output video to social media
• This software can only be available on Windows
Therefore, no matter MakeMKV, HandBrake or AnyDVD, they all have its pros and cons. You can select one according to your need. However, you may not want to limit yourself to only three options. There are other MakeMKV alternative in your hand if you are not satisfied with the above three applications. DVDFab DVD Ripper is one of them.
11. Conclusion
With good MakeMKV alternative, you can yield twice the result with half the effort. Since the market has been flooded by converters and rippers, it may take you a while to weed through them one by one. If you happen to need a DVD converter or DVD ripper, no matter for DVD ripping, or Blu-ray or UHD burning, turn to DVDFab DVD/Blu-ray Ripper for help. For information about more MakeMKV alternatives like Format Factory, VideoSolo Video Converter, Uniconverter, DVD Shrink, read another aarticle.