How to Rip DVD for Mobile Phone with DVDFab DVD Ripper?
Mobile phones, especially smart phones, are playing an increasingly important role in people's daily lives, and if one day you lose them, you may not know what your life could turn into. Everybody has a mobile phone, or smart phone. According to a public survey, the most thing people do with a mobile phone is not making calls, but watch videos. Shockingly surprise? Not at all. So, how to make DVD movies playable on mobile phones is what many of us want to know for sure.
To that target, we need simply a DVD ripping software installed on computer, and then it will convert DVD movies for mobile phones. DVDFab DVD Ripper is a considerably smart one in doing this.
Check this tip out:
Convert DVDs for Mobile Phones: Step 1 -> Download and install the latest DVDFab 9 onto your computer;
Convert DVDs for Mobile Phones: Step 2 -> Launch DVDFab 9, choose Ripper option at the Option Interface (or from the Option Bar at the Main Interface), then load the DVD you are about to convert;
Convert DVDs for Mobile Phones: Step 3 -> Select the movie title, audio track and subtitle stream you want to keep at the Operation Window, click the Profile Box (or Profile Icon) to find your phone (e.g, HTC One) from Profile Library and press "OK" button, then just hit "Start" button at the Main Interface to go converting.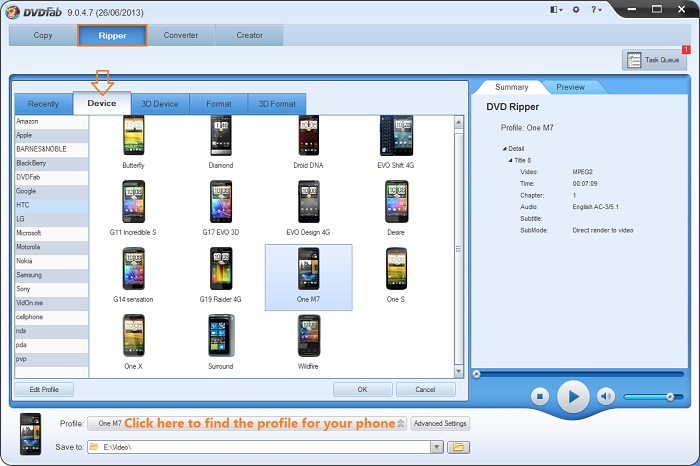 Note: selecting the profile from targeted at your phone from the built-in Profile Library is the key point of the whole process.
Software you need: The latest build of DVDFab 9
Product you need order: DVD Ripper
For more information, just move on to DVDFab DVD Ripper page.